This one makes you think quite a bit. My father just emailed me a scanned copy of this, and it really makes you think….want to share it and reflect a bit.
I'll type it out if you have trouble reading it:
Subject: How Do You Live Your Dash?
I read of a man who stood to speak
At the funeral of a friend.
He referred to the dates on her tombstone
From the beginning….. to the end
He noted he first came to her date of birth
And spoke the following date with tears,
But he said what mattered most of all
Was the dash between those years. (1900 – 1970)
For that dash represents all the time
That she spent alive on this earth…
And now only those who loved her
Know what that little line is worth.
For it matters not, how much we own:
The cars…the house…the cash,
What matters is how we live and love
And how we spend our dash.
So think about this long and hard….
Are there things you'd like to change?
For you never know how much time is left
That can still be rearranged.
If we could just slow down enough
To consider whats true and real,
And always try to understand
The way other people feel.
And be less quick to anger
And show appreciation more
And love the people in our lives
Like we've never loved before.
If we treat each other with respect,
And more often wear a smile….
Remembering that this special dash
Might only last a little while.
So when your eulogy's being read
With your life's actions to rehash
Would you be proud of the things they say
About how you spent your dash?
By Author Linda Ellis (The Dash Movie)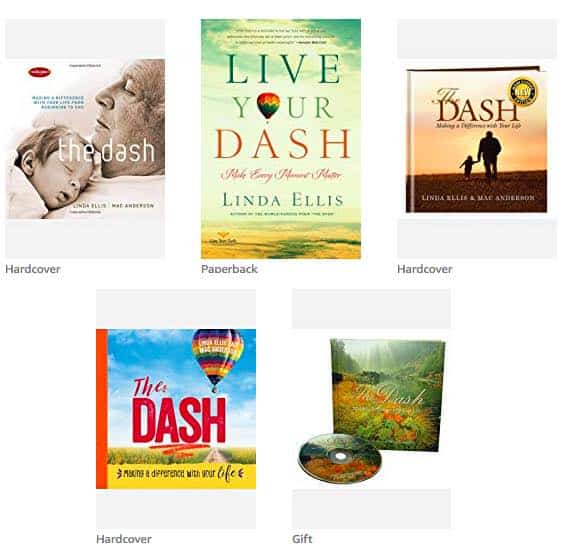 Scanned Copy From My Dad
This is the scanned version my dad emailed me.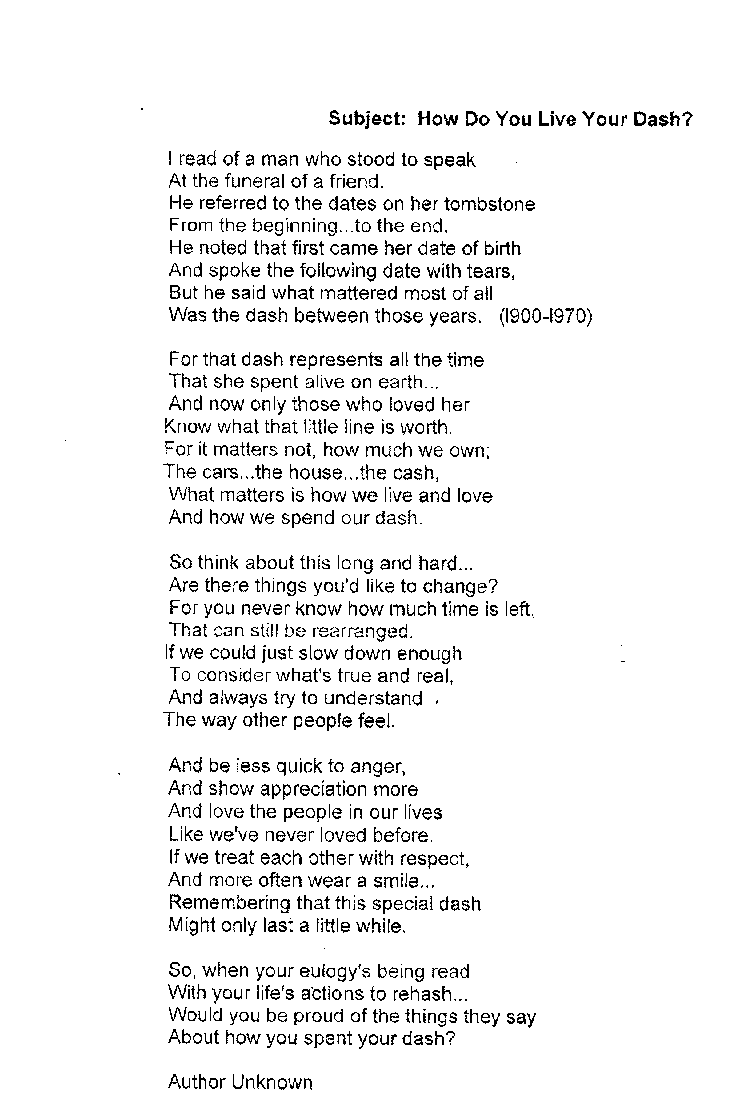 My Reflections of "The Dash"
Being a Sunday afternoon especially makes me sit and think…..as Sundays I think we all kind of reflect about the past week and the week ahead. Are there things I should be doing differently in my life? Again and again I feel I want to spend more time with my family back home, but I know I am doing my best to build a business here in China.
I know my parents, sister, family & friends understand – but as my grandmother grows old, and I speak to her on the phone sometimes….I wish I could spend more time with her and understand the life she lived. I do have my childhood memories, taking a saturday morning drive to see Nana & Papa (grandmother and grandfather), watching the baseball games with my grandfather and dad, playing some baseball catch with my uncle in the backyard, some evening barbecues. But I am out here in China fighting for my future, for opportunity, for my next generation to have freedom and a good life. So I cannot double think why I am here, and why I am doing this.
But living our DASH….I like that….and thinking how people will speak of your DASH when you are dead. Thinking of death always makes us think more completely about our daily life.
How Does "The Dash" Make You Think?
After years of having this poem in my head and regular memories, we need to stay positive and keep on pushing forward. If you can share a comment in the comment section below how The Dash poem has affected you in your daily life, that would be great to read!
Revision, Aug 1, 2010 – I received an email today that this poem was not "author unknown" and actually written by Linda Ellis (her website lindaellis .net/wp/the-dash/story-behind-the-dash/ is no longer working). Thanks Maria for emailing me.
Check out Linda's Amazon author page here
Get A Gratitude Journal!
We need to appreciate every day on this earth – here at Mike'S blog we support this gratitude journal – pick your copy up today and also support the blog here.